Director Lis Bartlett has long been captivated by true stories. Starting in middle school Lis recreated historic events through video for classroom projects. While pursuing degrees in Media Studies and Performing Arts and Social Justice at USF, she spent her summers cultivating her passion through Project Moonshine, a Nevada non-profit, teaching filmmaking skills to high school students by documenting important events in their communities. Working for Indie DocFest in San Francisco helped develop her documentary taste. Out of college she created her first show, "Know Your City Employee," for the City of Reno that profiled employees in their personal and professional lives. She was retained by Specialty Health to create what became a feature documentary, "Survival for Firefighters," that followed Reno public safety professionals in a health and wellness program based upon groundbreaking science used for determining cardiac risk. Lis has developed her filmmaking skills in Los Angeles by working in the editorial department of numerous projects, including Kobe Bryant's Showtime documentary MUSE; and most recently as editor for two episodes of "The Pitch" for Audience Network. LIGHT IN THE WATER is her first feature documentary. Lis chooses her stories carefully and is happiest when she can immerse herself in projects that illuminate new or unseen perspectives, giving people a voice through the art and medium of storytelling.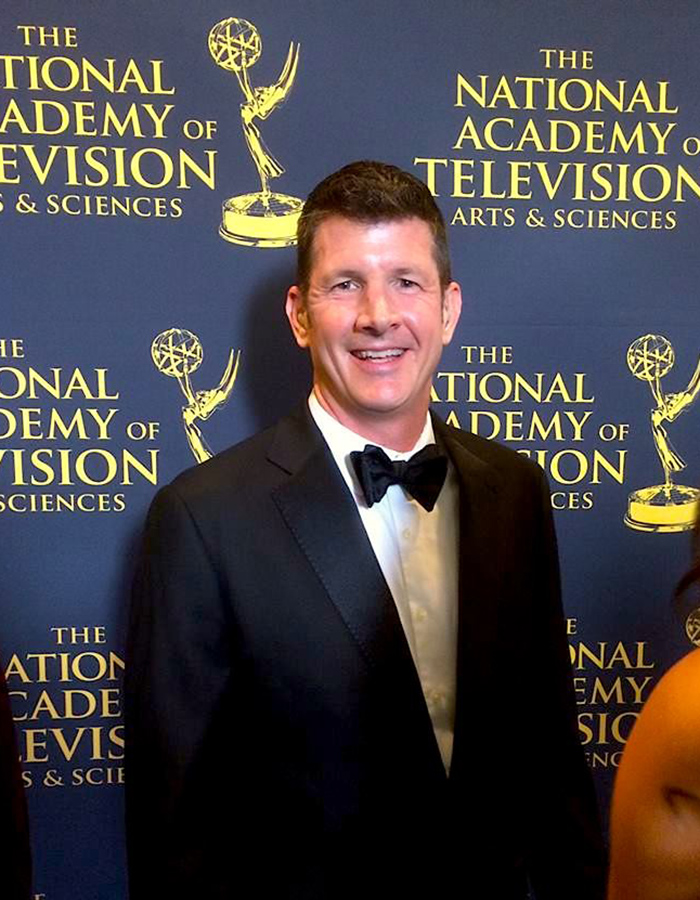 James Cude is an Emmy nominated editor with 18 years experience cutting both scripted and documentary film and television. James started playing water polo in his mid 30's, and was a member of West Hollywood Aquatics for close to a decade. James is profoundly deaf/hard of hearing in both ears, and competed with the USA National Deaf Water Polo Team at the Deaflympics in Taiwan, 2009. He is the oldest American ever to compete in the sport of water polo at any Deaflympics.
Producer Nathan Santell served as Director of Development for Jaret Entertainment under MGM, where he focused on feature films. Nathan was then brought on as Production Manager at The Third Floor, the world's largest previsualization company. Before long, he became the studio's Head of Production, overseeing previs production on titles such as Mad Max: Fury Road, The Avengers, Gravity, Iron Man 2 & 3, X-Men: First Class, and many others. In 2012, he was named Head of Development for Hydra Entertainment, a spin-off company focused on original content development. After two years, he was made partner and helped raise $5 million for the company's development slate. In 2016 Nathan became an independent producer, taking on multiple projects in various stages of development and production. Most notably, he was a producer on a PSA for the Center for Disease Control, bringing about awareness of new HIV prevention methods. Nathan has been a member of WH2O for ten years.
Taj is an Angeleno who comes from a family of gregarious Southerners –- on both sides -- who tell stories like it's an Olympic sport. She most recently served as the head of Logo Documentary Films. She's an award-winning writer, director and producer who has won three consecutive Emmy Awards in the Documentary category. Documentaries she's produced — Out of Iraq, The IF Project, Hungry and Light in the Water — have screened on the floor of the United Nations, for the US Congress, at over 50 film festivals and traveled with the State Department to enhance cross-cultural understanding. She's also been awarded the Humanitas Prize, given to works that inspire human freedom, for producing the independent feature film, Green Dragon. As a writer, she was a finalist in BET's screenplay competition. Her short film, A Fat GIrl's Guide to Yoga, won NBC's Comedy Short Cuts Film Festival, as well as its Audience Award for writing and directing. Her most recent work as a filmmaker, the music-inspired short My Brothers Keeper, is a moving meditation of love and loss that asks the audience to expand their understanding of Black masculinity and Black fatherhood. Taj's entire career has been lived at the intersection of race, gender & sexual orientation and, equally important, at the intersection of art and social change. She believes a story well told is our best tool in the fight against bigotry and hatred. Her new company Tajsworld Productions is based at MTV Studios.
Patty Ivins is an Emmy-award winning producer, director and writer who has produced hundreds of hours of prime-time television series and documentaries for networks such as NBC, FOX, SHOWTIME, OWN, A&E, AMC, CMT, LIFETIME, CW, TLC and Discovery. Ivins has produced pop culture hits like Fox's THE SIMPLE LIFE as well as raw documentaries about the struggle of girl and womanhood like "Mean Girls Mind Games" "Girls On The Wall" and LOGO Documentary films' "HUNGRY" about gender inequality in the culinary world. In 2018, HUNGRY" won the Women's Image NETWORK award for Best Documentary.
Most recently Ivins produced and directed GROWING UP IS A DRAG a new documentary series for SnapChat about a group of teen drag queens living in various parts of the U.S., but deeply connected via their social media. Ivins is also proud to have Executive Produced LIGHT IN THE WATER, a Logo Documentary films that reveals the untold story of a group of gay men and women who found one another through their love of competitive swimming, ultimately becoming a family and a force for the LGBTQ sports movement.
In traditional television, Ivins executive produced and directed OWN's breakout family comedy Flex & Shanice, NBC's Sports Illustrated: Swimsuit Model Search, America's Prom Queen for ABC Family, two seasons of LOGO's provocative therapy series – BAD SEX, four seasons of the hit Style show Dress My Nest with Thom Filicia and twenty hours of A&E Biography. In 2004, Ivins won an Emmy for the AMC documentary HOLLYWOOD ROCKS THE 70's, narrated by David Bowie. Ivins' production banner, PB&J TV + Docs continues to develop thought-provoking, culturally-relevant programming for top networks and digital channels around the globe, always seeking out the next best untold story to share with the world.